Hydraulic Impact Hammers
The SuperRAM is a simple, ruggedly designed and environmentally friendly hydraulic impact hammer, which was developed on basis of the Classic hammer series. With the new XL design a striking mass up to 12 tons can be used. Beside the pure steel striking mass, steel/lead mixture up to 6 tons are available.
The steel/lead mixture produces a longer stress wave in the concrete pile, this leads to a reduction of the peak forces in the pile and causes a larger penetration depth per impact during the impacting procedure. The production rates are increased thereby. In addition the use of the mixture affects the noise level and the quality positively, since less rejected piles are produced.
The hydraulic and electrical energy is supplied by the carrier or power pack. In order to be able to proof the load bearing capacity, SuperRAM hydraulic impact hammers are equipped with modern sensors for the measurement of parameters such as impact energy, penetration depth, impact frequency and number of blows.
SuperRAM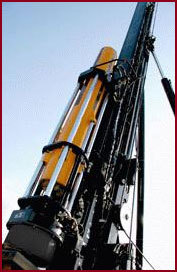 The SuperRAM hydraulic impact hammers are especially suitable for impacting pre-fab concrete piles. SuperRAM series offers steel/lead striking mass with a weights from 3000 to 6000 kg.
SuperRAM XL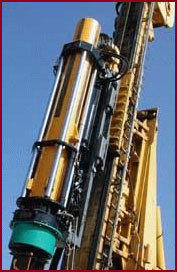 The SuperRAM XL hydraulic impact hammers are ideal for impacting of heavy piles e.g. steel casings. They are supplied with a steel striking mass with weights from 6000 to 12000 kg, however when desired also with steel/lead mixture.