ABI Mobilram "Z" Pile Pusher (Press)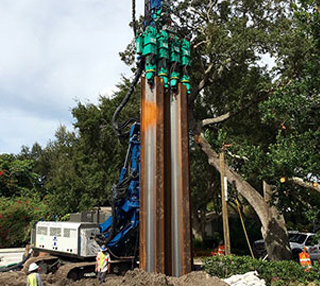 The "Z" Pile Pusher is ideal for static pressing pile elements on construction sites where noise and vibration emissions have to be reduced to a minimum or for applications where 4 sheets can be pressed at one time to maximize productivity.
When site conditions demand an absolute vibration-free method like projects near computer centers, historical buildings, hospitals, or schools, the ABI "Z" pile pusher is the ideal tool for the job. This attachment is suitable for the static pressing and extracting of cold rolled interlock steel sheet piles as well as hot rolled U and Z steel sheet piles in different system widths. Depending upon the geological situation, high daily production rates can typically be achieved.
This system is a genuine alternative to the Soldier Beam Wall with H-beams, particularly if a high ground-water level represents a problem. Typical applications include inner city shoring and excavation supports.
| "Z" Pile Pusher | HPZ |
| --- | --- |
| Pushing Force (kN) | 760 |
| Pushing Force (lbs) | 170,795 |
| Extraction Force (kN) | 570 |
| Extraction Force (lbs) | 128,095 |
| Number of Rams | 4 |