ABI Mobilram Vibratory Hammer (MRZV)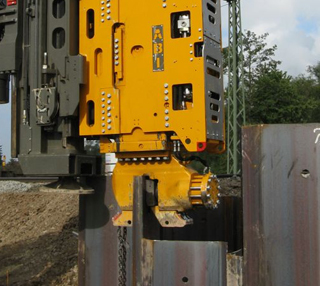 The Mobilram vibratory hammer with adjustable static moment is suitable for the piling and extracting of steel sections such as sheet pile walls, H-beams and pipes as well as alternative foundation methods like vibro, cast-in-place, gravel, and sand piles.
The vibratory hammer works on the premise that the eccentric weights are adjusted against each other so that no oscillations are generated. After reaching the pre-selected working frequency, the static moment of the eccentric weights is adjusted according soil conditions. When running out, the static moment is switched off followed by the vibrator so that no oscillation points are generated when driving through the natural frequencies of the soil. The operator has the ability to change between the minimum and maximum static moment with the push of a button or adjust defined intermediate positions.
The Mobilram vibratory hammers come in models that range from a driving force of 102 tons up to 154 tons.
MRZV Model

| Specifications | 17VV | 20VV | 28VV | 30VV |
| --- | --- | --- | --- | --- |
| Static Moment (in. lbs.) | 0 - 1475 | 0 - 1735 | 0 - 2430 | 0 - 2600 |
| Dynamic Mass (lbs.) | 4,640 | 6,195 | 6,260 | 8,810 |
| Nominal Revolutions (min -1) | 1,800 | 3,135 | 1,800 | 2,140 |
| Maximum Revolutions (min -1) | 2,600 | 2,600 | 2,600 | 2,600 |
| Centrifugal Force at Nominal Frequency (tons) | 61 | 102 | 102 | 153 |
| Maximum Centrifugal Force (tons) | 76 | 122 | 174 | 228 |
| Maximum Static Extraction Force (tons) | 20/25 | 20 | 20/33 | 20/28/30/38 |
| Maximum Oil Pressure (p.s.i.) | 5,075 | 5,075 | 5,075 | 5,075 |
| Recommended Installed Power of Carrier (h.p.) | 335 - 400 | 400 - 630 | 580 - 630 | 580 - 765 |
| Total Weight (lbs.) | 7,145 | 9,305 | 9,285 | 11,620 |
| Transport Weight (lbs.) | 7,695 | 9,790 | 10,430 | 12,745 |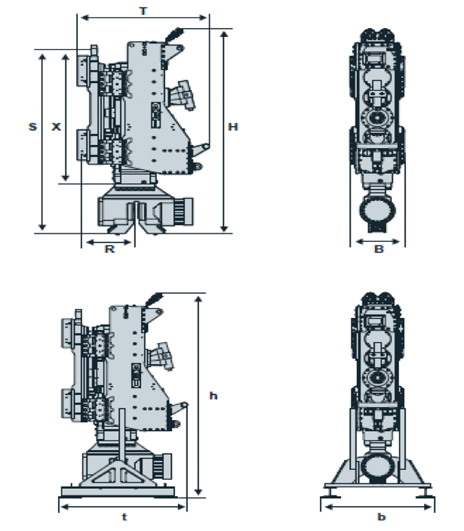 | Dimensions (in) | 17VV | 20VV | 28VV | 30VV |
| --- | --- | --- | --- | --- |
| H | 100 | 115 | 125 | 130 |
| B | 30 | 30 | 25 | 30 |
| T | 65 | 65 | 50 | 65 |
| R | 25 | 25 | 25 | 25 |
| S | 94 | 100 | 120 | 115 |
| X | 70 | 75 | 90 | 85 |
| Transport Dimensions (in) | 17VV | 20VV | 28VV | 30VV |
| --- | --- | --- | --- | --- |
| h | 105 | 120 | 140 | 136 |
| b | 40 | 40 | 60 | 60 |
| t | 65 | 65 | 60 | 65 |