ABI Mobilram Dual Auger Casing Drive (VDW)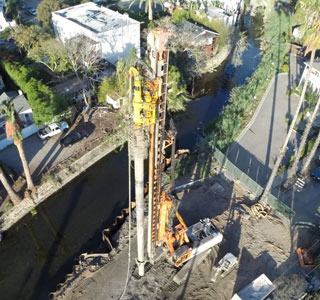 The Dual Auger Casing Drive is ideal for drilling operations that are directly against adjacent structures (contiguous type, tangential, secant and on-the-wall) and for soilmix applications.
In most cases a secant pile wall is installed with a resonance-free VDW (in front of the wall) procedure and will serve as the foundation for the building. Typical areas of application are underground parking garages and rainwater retention basins.
In addition to secant pile walls, contiguous and tangential pile walls, single piles can also be installed with this unit. Onto the VDW double auger head system a casing and drilling head are attached. The tools turn in opposite directions and the position of the auger head can be adjusted depending upon soil conditions. While pulling, the tools concrete is pumped into the bore hole, creating the pile. Double auger heads also serve as a tool for soil exchange procedures and full displacement piles.
| Dual Auger/Casing Drive | Model 6240 | Model 8360 | Model 10050 |
| --- | --- | --- | --- |
| Torque Auger Drive (ft/lbs) | 30,977 | 45,728 | 36,878 |
| Torque Casing Drive (ft/lbs) | 45,728 | 61,217 | 73,756 |
| Total Weight (lbs) | 9,193 | 9,634 | 10,042 |
| Transport Weight (lbs) | 9,931 | 10,372 | 10,648 |
| Dual Auger/Casing Drive | Model 6240 | Model 8360 | Model 10050 |
| --- | --- | --- | --- |
| Torque Auger Drive (kNm) | 42 | 62 | 50 |
| Torque Casing Drive (kNm) | 62 | 73 | 100 |
| Total Weight (kg) | 4,170 | 4,370 | 4,5555 |
| Transport Weight (kg) | 4,505 | 4,705 | 4,830 |