ABI Mobilram CFA Drill Head (MDBA)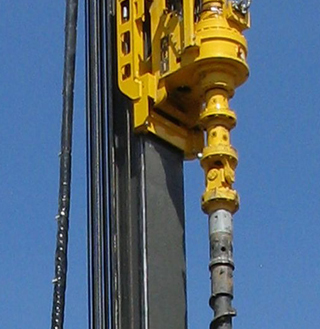 The CFA (Continuous Flight Auger) Drill Head is suitable for all kinds of applications: ground release drilling, dwell drilling, or pile foundation drilling. The unit contains an injecting head used for the installation of CFA piles as well as part and full displacement piles.
Difficult soil conditions can be made pilable by ground release drilling. This is the most economical and most frequent practiced application in connection with piling and extracting works. High pressure swivels between auger drive and auger head permit injecting of various medias for flushing purposes or concreting for CFA piles.
Our auger drives find a further use by wet and dry soil mixing procedures (WSM - Wet Speed-Mixing and DSM - Dry Speed-Mixing). With single or twin auger drives single piles, groups or secant pile walls can be produced. The existing soil material is mixed with a cement grout by WSM or with lime by DSM.
The Mobilram with CFA Drill head achieves high production rates with no excavation and operates as a noiseless and vibration-free system.
| CFA Drill Head | Model 3500 | Model 120 | Model 6000 | Model 150 |
| --- | --- | --- | --- | --- |
| Torque (kNm) | 35 | 120 | 60 | 150 |
| Torque (ft/lbs) | 25,800 | 88,475 | 44,230 | 110,595 |
| Center Shaft ID (mm) | 60 | 140 | 90 | 140 |
| Center Shaft ID (in) | 2 ⅓ | 5 ½ | 3 ½ | 5 ½ |
| Max Auger Diameter (mm) | 1,000 | 1,220 | 1,000 | 1,220 |
| Max Auger Diameter (in) | 39 | 48 | 39 | 48 |