PTCVibrodrivers
PTC Vibrodrivers are efficient hydraulic vibratory hammers that produce vertical vibrations to drive or extract a wide variety of profiles: sheet piles, H and I beams, casings and tubes, and wooden piles
Functional Principal
The Vibrodriver vibrates profiles, sheet piles or casings to drive or extract in vertical vibrations. This in turn causes the adjacent ground to shift. The ground is loosened, which leads to the pile being driven into the ground by its own and the vibrator's weight. It can be extracted by the same principle via the pulling force of the carrier (crane) in use.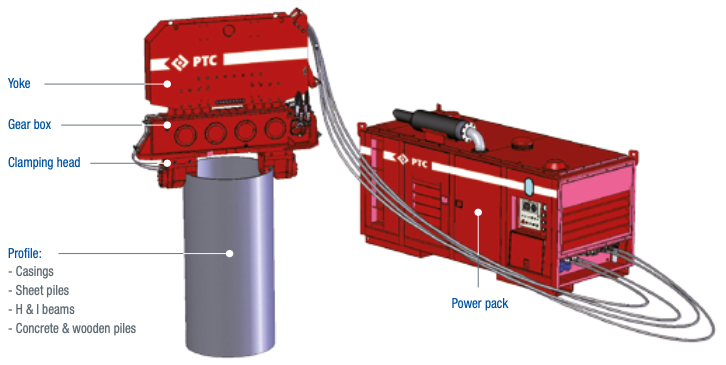 What Vibrodriver Range Do You Need?
The Vibrodriver range that best fits your application depends on the proximity of the piling job to existing vibration-sensitive structures. If the piling works are done in a vibration-sensitive area (in a city center next to buildings), you will need to control your amplitude and the particle velocity, thus you need a Vibrodriver with Variable moment technology (PTC Patent).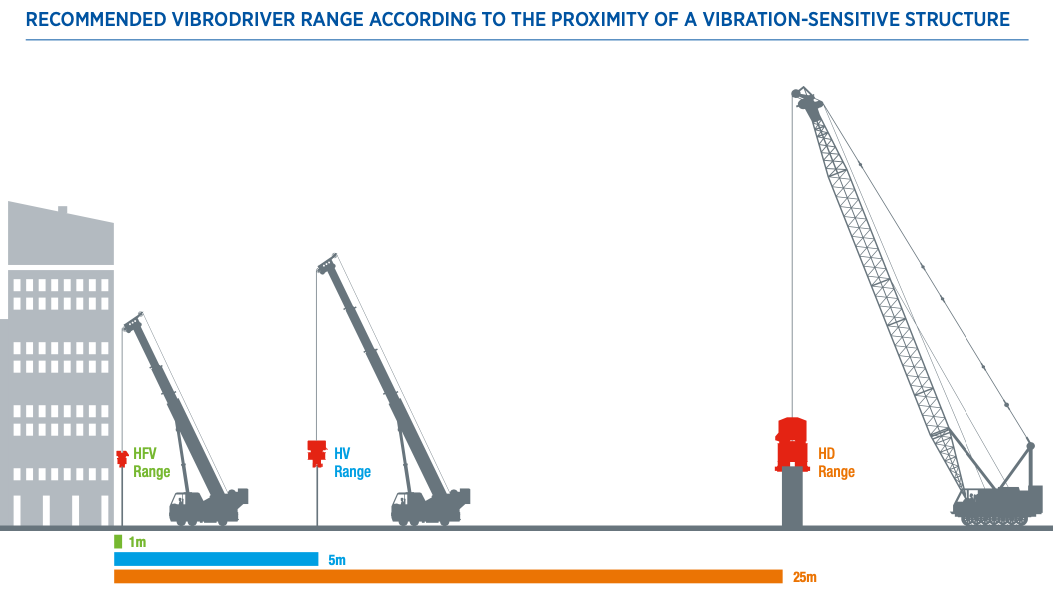 The Advantages of Vibrodrivers
Variable Moment Technology (PTC Patent) allows driving with adjustable amplitude thanks to the variation of the eccentric's relative positions.
Resonance-free start up and stop down.


Suitable for telescopic booms.


Amplitude adjustment at any time thanks to a variation of the moment.


The variation of the moment facilitates the handling of the profile during driving operations:

Better control of the profile verticality.
Helps to precisely attain the desired driving depth.
Possibility of adjusting driving speed.