Steel Sheet Piling & H-Pile Products
Hammer & Steel, Inc. maintains one of the largest rental inventories of domestically produced hot rolled steel sheet piling products in the United States as well as a full complement of H-piling sections, Combi-wall system combination wall piling, and Peiner beams. Our stock includes steel sheet piles from all of the top domestic manufacturers like Gerdau Ameristeel, Shoreline, and Superior, as well as international producers like Nucor Yamato and Hoesch. Our steel sheet pile sections include new and used PZ 27, new high efficiency "Z" sections, PZC™ 13 / PZC™ 18, and heavier PZ 35 and PZ 40 sections.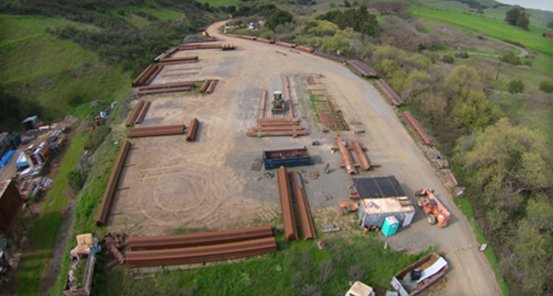 Steel Sheet Piling and H-Piling products are available for sale or rental from our stocking yards located in:
St. Louis, Missouri
Blytheville, Arkansas
Petersburg, Virginia
Houston, Texas
Minneapolis, Minnesota
Benicia, California
Jacksonville, Florida
Steel sheet piles can also be ordered for direct shipment from mill rollings to minimize job site delivered costs.