Steel H-Piling Products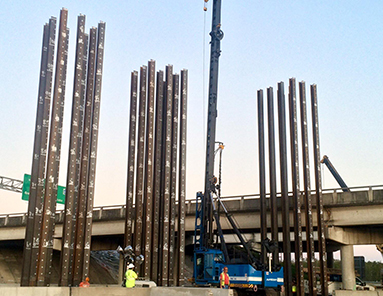 Hammer & Steel maintains large stocks of steel H-Piling products at all of its facilities around the United States. These structural beams are used extensively for deep foundation applications to add stiffness and support to sheet pile walls and foundations. H-Piles are steel beams that are driven into the earth by pile driving equipment. The tough and durable cross sections provide excellent driving characteristics when driving in difficult soil and rock conditions.
Steel H-Piles are structural square beams that are available in a wide variety of sizes and can also be used for marine structure applications.
Specifications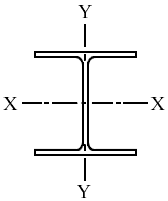 Design Properties - Steel H Piling
Section Number
Weight Per Foot
lb
Area of Selection
A in.2
Depth of Section
d in.
Flange Width
bf in.
Flange Thickness
tf in.
Web Thickness
tw in.
Axis X-X
lx in.4
Axis X-X
Sx in.3
Axis X-X
rx in.
Axis Y-Y
ly in.4
Axis Y-Y
Sy in.3
Axis Y-Y
ry in.
Surface Area
ft2/ft
HP14X
117
34.4
14.21
14.885
0.805
0.805
1220
172
5.96
443
59.5
3.59
7.11
102
30
14.01
14.735
0.705
0.705
1050
150
5.92
380
51.4
3.56
7.06
89
26.1
13.83
14.695
0.615
0.615
904
131
5.88
326
44.3
3.53
7.02
73
21.4
13.61
14.585
0.505
0.505
729
107
5.84
261
35.8
3.49
6.96
HP12X
84
24.6
12.28
12.295
0.685
0.685
650
106
5.14
213
34.6
2.94
5.97
74
21.8
12.13
12.215
0.61
0.605
569
93.8
5.11
186
30.4
2.92
5.91
63
18.4
11.94
12.125
0.515
0.515
472
79.1
5.06
153
25.3
2.88
5.86
53
15.5
11.78
12.045
0.435
0.435
393
66.8
5.03
127
21.1
2.86
5.82
HP10X
57
16.8
9.99
10.225
0.565
0.565
294
58.8
4.18
101
19.7
2.45
4.91
42
12.4
9.7
10.075
0.42
0.415
210
43.4
4.13
71.7
14.2
2.41
4.83
HP8X
36
10.6
8.02
8.155
0.445
0.445
119
29.8
3.36
40.3
9.88
1.95
3.92