Comacchio MC 20 Drilling Rigs
Comacchio MC Line - The basic line of multiuse rigid and articulated hydraulic crawler drilling rigs which are suitable for several types of specialized works, such as ground consolidation, anchor drilling, geotechnical works, water well drilling and geothermal energy.
The MC 20 is a hydraulic crawler-mounted drill rig of excellent performance able to operate all rotary and / or rotary percussive drilling systems. The machine is suitable for specialized works for civil engineering such as micropiles, anchors and ground consolidations.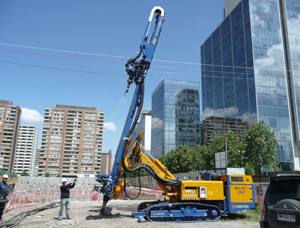 | Specifications | |
| --- | --- |
| Torque | 17,700 / 20,650 lb. ft. |
| Speed | 20 / 200 r.p.m. |
| Feed Stroke | 165 / 188 in. |
| Feed Force | 22,480 lb. |
| Retract Force | 22,480 lb. |
| Engine Power | 306 h.p. |
| Weight | 42,000 / 46,300 lb. |