Comacchio MC 14 Drilling Rigs
The MC 14 features an innovative undercarriage offering enhanced stability and maneuverability on uneven ground while keeping the rigs width within a minimum of 1800 mm.
The rig's mast articulation ability, compact size and variety of mast positions and inclinations allow for operation even in confined spaces. The powerful engine allows for the installation of a wide range of drill heads and accessories. The result is that the MC 14 can perform a wide range of drilling technologies, with a special focus on double head drilling (both in rotary/rotary mode and rotary/rotary‐percussion mode). The enhanced stability and mobility required while operating with such heavy drilling systems is achieved through the patented undercarriage, making the MC 14 ideally suited for demanding anchoring and slope stabilization projects in unstable ground conditions.
| Specifications | |
| --- | --- |
| Engine Power | 142 kW (190 HP) |
| Max Width | 6 - 7.6 ft |
| Weight | 30,800 - 33,000 lbs |
| Mast Feed | 6.4 - 12.9 ft |
| Feed Force | 12,140 lbs |
| Retract force | 12,140 lbs |
| Rotary Torque | 9,588 - 17,148 lb*ft |
| Rotary Speed Range | 135 - 290 rpm |
| Clamp Range | 1.8 - 14.4 in |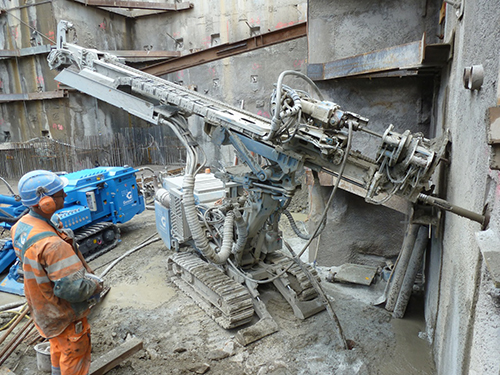 Comacchio MC 14 Drilling Rigs