Comacchio MC 22 Drilling Rigs
The variety of movements and inclinations due to this system allows for the use of the MC 22 for various kinds of ground engineering works (micropiles, anchors, jet grouting and consolidations in general) even in confined spaces.
The MC 22 was the first drilling rig equipped with the innovative Comacchio mast articulation system. Available with a wide selection of rotary heads, hydraulic hammers, double head systems, water and mud pumps, winches and rod carousels, the MC 22 is suitable for any type of rotary and rotary-percussive drilling and can be equipped with hydraulic proportional servo-assisted controls or radio control for tramming, drilling, machine set-up and carousel functions.
| Specifications | |
| --- | --- |
| Engine Power | 197 - 225 HP |
| Max Width | 8.2 ft |
| Weight | 48,500 - 52,900 lbs |
| Mast Feed | 14.6 - 33.5 ft |
| Feed Force | 17,984 lbs |
| Retract Force | 17,984 lbs |
| Rotary Torque | 9,588 - 22,864 lb*ft |
| Rotary Speed Range | 48 - 350 rpm |
| Clamp Range | 1.8 - 20.9 in |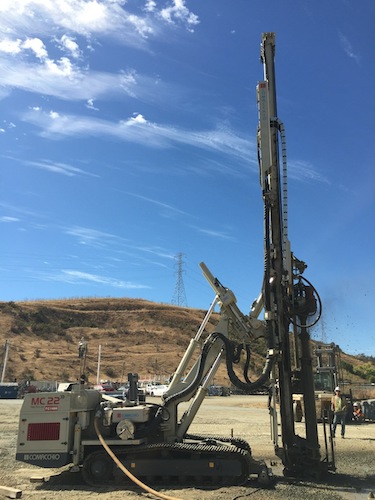 Comacchio MC 22 Drilling Rigs