ESZ Steel Sheet Piles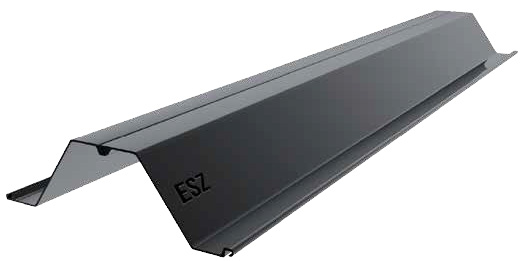 Hammer & Steel sells and rents Grade 60 steel sheet piles. These sheet piles give a quantifiable improvement of 20% in design life compared to a sheet pile in grade 50 steel. On a project with a life expectancy of 75 years that's an additional 15 years of life.
Using grade 60 in design can often lead to reducing a sheet pile size to carry the same loading. Weight saving of 30% or more are realistic.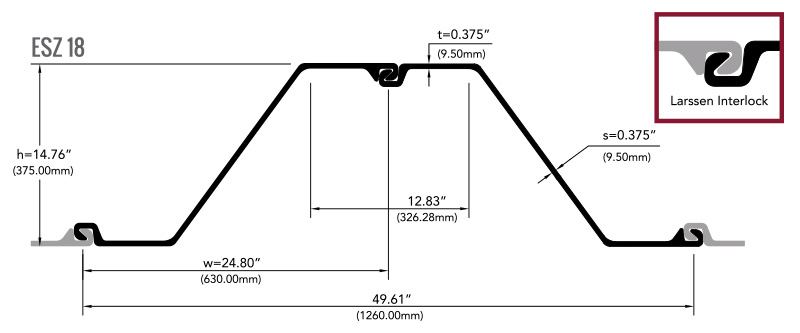 Specifications - Imperial

| Sheet Pile Section | ESZ 17 | ESZ 18 | ESZ 19 | ESZ 20 | ESZ 24-700 | ESZ 26-700 | ESZ 28-700 |
| --- | --- | --- | --- | --- | --- | --- | --- |
| Width (in) | 24.80 | 24.80 | 24.80 | 24.80 | 27.56 | 27.56 | 27.56 |
| Height (in) | 14.72 | 14.76 | 14.80 | 14.82 | 18.07 | 18.11 | 18.14 |
| Flange Thickness (in) | 0.335 | 0.375 | 0.413 | 0.433 | 0.472 | 0.512 | 0.551 |
| Web Thickness (in) | 0.335 | 0.375 | 0.413 | 0.433 | 0.354 | 0.394 | 0.433 |
| Pile Weight (lb/ft) | 46.91 | 51.07 | 55.24 | 57.32 | 60.14 | 64.98 | 69.82 |
| Wall Weight (lb/ft2) | 22.69 | 24.72 | 26.73 | 27.75 | 26.19 | 28.29 | 30.40 |
| Section Modulus (in3/ft) | 31.1 | 33.6 | 36.1 | 37.3 | 45.3 | 48.4 | 51.4 |
| Moment of Inertia (in4/ft) | 229.2 | 247.9 | 266.6 | 276.3 | 409.1 | 438.0 | 466.8 |
| Cross Sectional Area (in2/ft) | 6.67 | 7.26 | 7.86 | 8.16 | 7.7 | 8.32 | 8.93 |
| Coating Area (ft2/ft-single) | 5.58 | 5.58 | 5.58 | 5.58 | 6.30 | 6.30 | 6.30 |
Specifications - Metric

| Sheet Pile Section | ESZ 17 | ESZ 18 | ESZ 19 | ESZ 20 | ESZ 24-700 | ESZ 26-700 | ESZ 28-700 |
| --- | --- | --- | --- | --- | --- | --- | --- |
| Width (mm) | 630 | 630 | 630 | 630 | 700 | 700 | 700 |
| Height (mm) | 374 | 375 | 376 | 377 | 459 | 460 | 461 |
| Flange Thickness (mm) | 8.5 | 9.5 | 10.5 | 11.0 | 12.0 | 13.0 | 14.0 |
| Web Thickness (mm) | 8.5 | 9.5 | 10.5 | 11.0 | 9.0 | 10.0 | 11.0 |
| Pile Weight (kg/m2) | 69.81 | 76.00 | 82.20 | 85.40 | 89.50 | 96.70 | 103.90 |
| Wall Weight (kg/m2) | 110.8 | 120.7 | 130.5 | 135.6 | 127.9 | 138.10 | 148.4 |
| Section Modulus (cm3/m) | 1670 | 1805 | 1940 | 2004 | 2435 | 2600 | 27.63 |
| Moment of Inertia (cm4/m) | 31300 | 33850 | 36410 | 37734 | 55870 | 59810 | 63750 |
| Cross Sectional Area (cm2/m) | 141.16 | 153.71 | 166.27 | 172.8 | 162.9 | 176.0 | 189.1 |
| Coating Area (m2/m) | 1.71 | 1.71 | 1.71 | 1.71 | 1.92 | 1.92 | 1.92 |