Tubular Steel Swinging Leads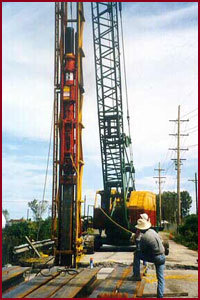 Hammer & Steel, Inc. sells, rents and services several sizes of heavy-duty tubular steel swinging leads.
These leads utilize a pin connection between sections, which offers several advantages over bolt-connected leads. Pin-connected leads are as strong as a bolt connection, and offer a quicker and easier setup in the field over the more cumbersome alternative. Our leads also offer a side-mounted ladder for easy access to the hammer in the lifted position, a re-enforced "stab" section which is resistant to bending over time, a manual pile gate assembly for pile stabilization, and a single pivoting lift point on the "top" section of the leads.
These leads are offered in the most commonly used sizes for diesel, vibratory and hydraulic hammers (21", 27", 32", and 43"). These leads are available for rent and sale in many common lengths from 5' to 40', and specific lengths can be fabricated for sale to fit the customer's individual needs.