SPD PM 85 Steel Pile Driving Technology
The SPD PM 85 mast attachment is the latest offering from H&S in steel pile driving technology. At a shipping weight of 32,000 lbs, this is the ideal machine for your solar project, large or small.
Mounted on a Volvo ECR88 excavator, this rig is capable of driving beams up to 28' in length.
The powerful SPD1000 hammer delivers 2443 joules of energy, perfect for difficult driving conditions.
In addition, this rig can be equipped with a Eurodrill rotary for predrilling, and optional GPS system. View other features and capability by clicking the brochure.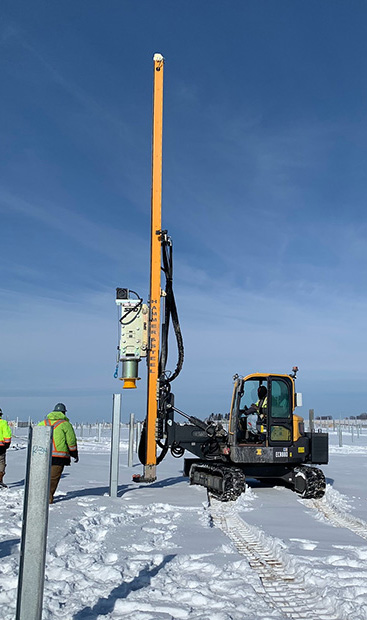 SPD PM 85 mast attachment
---
Specifications
Stroke (meter)
8.5
Total length
10.65
Transport length
10.65
Mast weight (approx) (kg)
4400
Connection to excavator, quick coupling
No
Mast material
Steel
Piling hammer 1st choice
SPD1000
Crowd force
80kN
Feed system
Rope
Feed system dimension
12 mm
Specifications
Service winch (500 kg)
Yes
Motor power recommended, minimum (kW)
50
Oil flow recommended, minimum (lit/min)
150
Oil pressure recommended, minimum(bar)
200
Angle display
Yes
Lateral movement (mm)
1000
Diameter of the pressure/flow feed line,
minimum (inch)
1
Diameter of the tank line, minimum (inch)
1 1/4
Diameter of the drain line, minimum (inch)
1/2
Maximum accepted tank back pressure (bar)
5
Maximum accepted drain line back pressure (bar)
0,5 - 2
PM85E
Total machine weight: 14500 kg
Mast weight: 4400
Mast length: 10650 mm
Stroke: 8500 mm
Mast zoom up/down: 1000 mm
Feeding: Cylinder and ropes
Cradle: SPD quick coupling
Piling hammer: 1000 kg