SoilTekS60 and S35C Hydraulic Piling Rigs
Hammer & Steel sells and leases the SoilTek S60 hydraulic piling rig and the SoilTek S35C piling rig.
SoilTek manufactures hydraulic piling rigs in central Italy. The S60 piling rig is a flexible machine offering solutions to most requirements in the drilling and small diameter piling fields, including restricted access work.
SoilTek S60 Features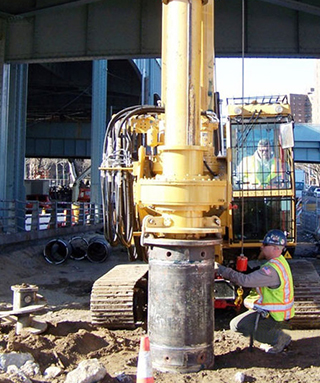 Restricted Access Work (lift with a crane @ 37,000 lbs.)
Small Job Sites
Versatile Rig that Does Not Require Trucking Permits
Low Head Room
Capable of Drilling 29 ft. w/ 17 ft. of Head Room
Capable of Drilling 60 ft. w/ 30 ft. of Head Room
Capable of Drilling 80 ft. w/ 36 ft. of Head Room
Powerful 112 h.p. Engine Generating 52,000 ft. lbs. of Torque with Round Locking Kelly Bar
Available in a CFA Version Capable of Drilling 33 ft.
SoilTek S35C Features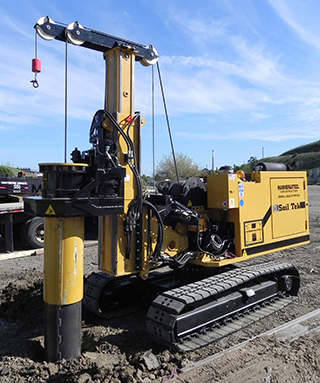 Restricted Access Work (lift with a crane @ 22,500 lbs.)
Small Job Sites
Low Head Room
Capable of Drilling 40 ft. w/ 10 ft. of Head Room
Capable of Drilling 60 ft. w/ 14 ft. of Head Room
Powerful 70 h.p. engine generating 22,500 ft. lbs. of Torque with Round Locking Kelly Bar
Remote Control Operation for Good Visibility
Transportable on a Flat Bed