Comacchio MC E-60 Attachments
The MC-E line is designed to satisfy the needs of operators working in restricted or confined areas, where certain soil conditions, bearing capacity requirements and/or limited space make it difficult to use a crawler mounted drilling rig. Such jobsites may include docks, road edges, rock walls, and slopes, as well as many others.
MC-E attachments are installed on the end of hydraulic excavator booms. Using the excavator hydraulics along with a slewing ring or with the patented mast joint support, these machines can reach an assortment of mast positions and inclinations. The rotary head and mast movements are all powered by the hydraulic circuit of the excavator.
Mainly used for ground improvement works and anchor drilling, the MC-E line consists of a range of models to fit various excavator sizes. The largest model has capability of reaching up to 30 ft. of stroke and carries a rotary with 18,000 ft. lbs. of torque. These attachments can be equipped with a wide range of rotary heads and hydraulic drifters capable of operating the most commonly used rotary and/or rotary-percussive drilling systems. All set-up and drilling functions can be controlled by the operator directly from the excavator cabin, or by using the radio remote control, achieving several advantages in terms of efficiency, productivity and safety.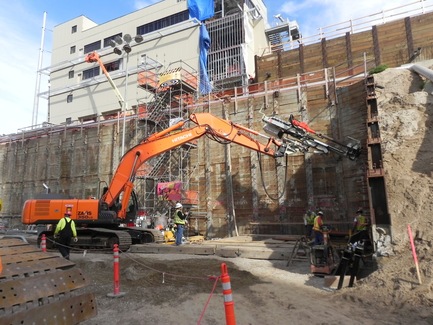 Specifications
Torque
8,110 ft. lbs.
Speed
60-420 rpm
Feed stroke
8-13 ft.
Feed force
13482 lbs.
Retract force
13,482 lbs.
Excavator Class
25-30 tn.
Weight
14,100 - 16,300 lbs