PTCH & HD Series Hydraulic Vibrodrivers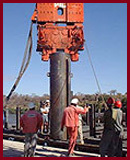 PTC manufactures H & HD heavy duty hydraulic vibrators which provide excellent performance and precision for driving and extracting sheets, piles, casings and profiles.
The HD series vibratory equipment was developed for driving heavy profiles and casings with proper weights weighing up to 90 tons. With the HD Series durable design, the maximum pressure of the individual eccentric pairs is limited to 15 tons which ensures a long working life for the bearings.
Standard Frequency Vibrators

| | | | | | |
| --- | --- | --- | --- | --- | --- |
| | 15H1 | 18H2 | 25H1A | 30H1A | 30HP |
| Eccentric moment (m.kg) | 15 | 17 | 23 | 30 | 30 |
| Hydraulic power (kW/hp) | 116 / 158 | 112 / 153 | 144 / 196 | 214 / 290 | 165 / 224 |
| Maximum frequency (Hz/rpm) | 28 / 1680 | 27 / 1620 | 26 / 1560 | 28 / 1680 | 27 / 1620 |
| Max. centrifugal force (kN) | 473 | 499 | 626 | 947 | 880 |
| Max. line pull capacity (kN) | 200 | 280 | 400 | 400 | 400 |
| Total weight (kg) | 2150 | 2500 | 3600 | 4120 | 3300 |
| Power Pack Type | 240 | 240 | 240 | 350 | 350 |
| Clamping Head For sheet piles | Agriplex 55 t 360 kg | Agriplex 55 t 360 kg | Agriplex 85 t 430 kg | Agriplex 120 t 750 kg | Agriplex 120 t 750 kg |
| Clamping Head For casings | Duplex 2 x 42 t 580 kg | Duplex 2 x 42 t 580 kg | Duplex 2 x 42 t 580 kg | Duplex 2 x 55 t 950 kg | Duplex 2 x 55 t 950 kg |
| Diameter min/max (mm) | 190 / 1210 | 190 / 1210 | 250 / 2300 | 250 / 2300 | 250 / 1520 |
| | | | | | |
| --- | --- | --- | --- | --- | --- |
| | 30H2L | 50HD1 | 50HD2 | 65HD | 75HD |
| Eccentric moment (m.kg) | 30 | 45 | 50 | 65 | 75 |
| Hydraulic power (kW/hp) | 191 / 259 | 276 / 375 | 297 / 403 | 315 / 428 | 360 / 490 |
| Maximum frequency (Hz/rpm) | 25 / 1500 | 25 / 1500 | 25 / 1500 | 26 / 1560 | 25 / 1500 |
| Max. centrifugal force (kN) | 755 | 1132 | 1258 | 1768 | 1887 |
| Max. line pull capacity (kN) | 400 | 400 | 500 | 600 | 1050 |
| Total weight (kg) | 4300 | 6300 | 6400 | 6800 | 11800 |
| Power Pack Type | 350 L | 450 | 500 | 600 | 700 |
| Clamping Head For sheet piles | Agriplex 120 t 750 kg | Agriplex 170 t 1250 kg | Agriplex 170 t 1250 kg | Agriplex 240 t 2150 kg | Agriplex 240 t 2150 kg |
| Clamping Head For casings | Duplex 2 x 55 t 950 kg | Duplex 2 x 85 t 1250 kg | Duplex 2 x 85 t 1250 kg | Duplex 2 x 120 t 1630 kg | Duplex 2 x 120 t1650 kg |
| Diameter min/max (mm) | 250 / 1520 | 320 / 2186 | 320 / 2186 | 580 / 2834 | 580 / 2834 |
| | | | | |
| --- | --- | --- | --- | --- |
| | 120HD | 130HD | 200HD | 265HD |
| Eccentric moment (m.kg) | 120 | 130 | 199 | 261 |
| Hydraulic power (kW/hp) | 481 / 654 | 659 / 895 | 709 / 964 | 1123 / 1526 |
| Maximum frequency (Hz/rpm) | 23 / 1380 | 23 / 1380 | 23 / 1380 | 24 / 1440 |
| Max. centrifugal force (kN) | 2555 | 2768 | 4237 | 6051 |
| Max. line pull capacity (kN) | 1200 | 1200 | 1800 | 1800 |
| Total weight (kg) | 13300 | 13450 | 19540 | 27450 |
| Power Pack Type | 900 | 1200 | 1200 | 1900 |
| Clamping Head For sheet piles | - | - | - | - |
| Clamping Head For casings | Duplex 2 x 150 t 3100 | Duplex 2 x 150 t 3100 | - | - |
| Clamping Head Diameter min/max (mm) | 650 / 1676 | 650 / 1676 | - | - |
| Clamping Head For Big size casings | Quadriplex 4 x 120t 3200 kg | Quadriplex 4 x 120t 3200 kg | Quadriplex 4 x 150t 6200 kg | Quadriplex 4 x 250t 10500 kg |
| Diameter min/max (mm) | 1420 / 1840 | 1420 / 1840 | 1450 / 1820 | 1780 / 3590 |