DelmagAttachments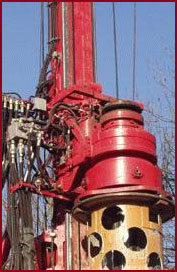 Rotary Heads
DELMAG rotary heads can be used with a Kelly bar to drill cased and non-cased piles, with a CFA auger or with part and full displacement tools.
The main advantages of the DELMAG rotary heads are the durable and simple design. The main design features can be listed as: hydraulic variable speed hydraulic motors which sit on top of single or dual speed sets of sealed planetary gears that reach into the grease lubricated main gear case and are connected to an oversize ball bearing turntable.
Only top quality components are used to manufacturing our products.
---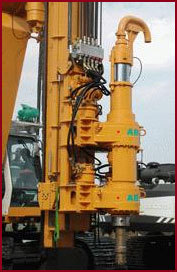 Double Auger Head Systems VDW
For augering operations direct against adjacent structures (contiguous type, tangential, secant and on-the-wall), also in use for soilmix applications.
In most cases a secant pile wall is installed with the resonance-free VDW (in front of the wall) procedure and serving at the same time as foundation for the building. Typical areas of application are underground parking, rainwater retention basins and so on.
Beside secant pile walls also contiguous and tangential pile walls or single piles can be installed. Onto the VDW double auger head system a casing as well as a drilling head is attached. The tools are turning in opposite directions and the position of the auger head can be adjusted depending upon soil conditions. While pulling the tools concrete is pumped into the bore hole. Furthermore double auger heads serve as a tool for soil exchange procedures and full displacement piles.
---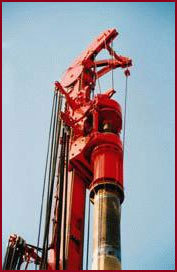 Dual Rotary Heads DDK
The characteristics of the patented DELMAG DDK-System (Double Rotary Head) compared to conventional double rotary head systems are that the upper rotary head (auger drive) can be moved independently from the lower rotary head (casing drive), a design that earned the award for best innovation at the BAUMA show in 1998.
This features makes it possible to drill down in one pass, retract the auger, install the re-bar cage and pour the concrete into a hole that is still protected by a casing. After pouring the concrete, the casing can be extracted using the lower rotary head, while the auger is still connected to the upper rotary head.
It is also possible to pump concrete through the center of the auger while pulling the auger. The casing can remain in the ground until the re-bar cage is installed and can be extracted afterwards by using the lower rotary head. Of course auger and casing could also be extracted simultaneously. For this method, any relative position of auger tip to casing shoe can be chosen, which allows an increased concrete head pressure, compared to a conventional Double Rotary Head system.
Using the Delmag DDK-System higher daily production can be obtained compared to the conventional Kelly drilling method, if soil conditions, jobsite conditions and logistics allow the use of the DDK-System.