Dawson Ratchet Release Shackles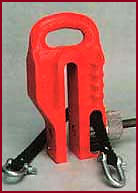 The Ratchet Release Shackle has been developed especially for lifting a whole range of steel piles and structural steel sections where they have to be lifted from ground level to some safe vertical position at any height (e.g. structural steel columns used in steel erection). It enables these steel elements to be subsequently disconnected safely and efficiently from a remote location. The use of these shackles saves the time taken and avoids the material costs of providing access for a man to disconnect the elements being handled. Achieving this result makes the work faster, more economical and inherently safe.
Benefits
Increased efficiency due to fast hook-ups and releases.
Improved safety due to a "super safe" ratchet mechanism that ensures a fail-safe mode, a positive threaded release pin, and a safety check indicator bar.
Enhanced flexibility from top lifting ring with two directional lifting joints.