Dawson Hydraulic Impact Hammers
The Dawson Double Acting Hydraulic Impact Hammers are the fastest pile hammers available. By delivering their full energy at 80 blows per minute, high production rates and productivity are maximized.
Each of the Dawson pile driving hammers can be used to drive a wide variety of piling sections from steel sheet piling to all types of bearing piles. The hammer systems offer excellent controllability to enhance safe operation and minimize piling damage.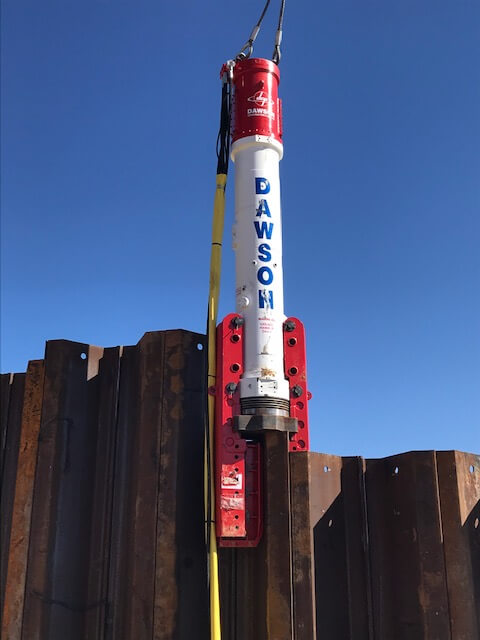 Double Acting Hydraulic Impact Hammer Specifications
| Hammer | HPH1800 | HPH2400 | HPH6500 |
| --- | --- | --- | --- |
| Ram Weight (lbs) | 3300 | 4189 | 10250 |
| Impact Velocity (ft/s) | 16.4 | 16.3 | 17.2 |
| Max. Pile Energy (ft lbs) | 13750 | 17360 | 47000 |
| Min. Pile Energy (ft lbs) | 7235 | 7074 | 18100 |
| Blow Rate (bpm) | 80-120 | 80-120 | 80-120 |
| Length-Lead Mounted (in) | 155 | 175 | 194 |
| Driving Sheets (in) | 199 | 208 | 257 |
| Body Diameter (in) | 18.5 | 20.5 | 29.5 |
| Weight-Lead Mounted (lbs) | 9350 | 13227 | 21000 |
| -Driving Sheets (lbs) | 9350 | 13227 | 32190 |
| Power Pack | HPH1800 | HPH2400 | HPH6500 |
| --- | --- | --- | --- |
| Diesel Engine Power (hp) | 67 | 90 | 170 |
| Hydraulic System Pressure (psi) | 3300 | 3300 | 3500 |
| Oil Flow Rate (gpm) | 28 | 40 | 67 |
| Size (LxWxH) (in) | 75x55x70 | 75x55x70 | 106x74x75 |
| Weight (lbs) | 4410 | 4410 | 7275 |