PTCHydraulic Clamping Heads
Hydraulic clamping heads must be adapted to the size of the vibrodriver, as well as to the shape of the sheet pile, profile or casing. PTC manufactures a full line of hydraulic clamps to firmly clamp the pile or casing being driven or extracted.
The Agriplex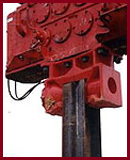 The Agriplex has a single ram and allows a single sheet pile or profile to be clamped.
---
The Duplex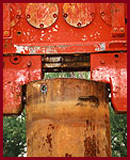 The Duplex clamping head for casings and caissons consists of two clamps like the Multiplex version. The position of the clamps is determined by the casing diameter. A straight beam allows the clamping of casing with a large diameter.
---
The Multiplex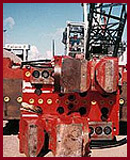 The Multiplex has two hydraulic clamps which can be slid on two shoe plates. This is especially useful for double sheet pile applications.
---
Quadriplex Clamping Head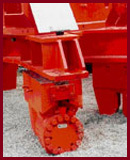 The Quadriplex clamping head is intended for clamping particularly large casings. It is comprised of four hydraulic clamps which slide on T-bars. The T-bars are mounted on a special X-formed beam, also called spreader beam, directly beneath the casing.
---
The Multigrip Clamping Head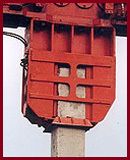 Clamping head for extracting (eventually driving) concrete and wooden pileswhich are round and square (from 350mm x 350 mm to 450 mm x 450mm).
---
The Tetagrip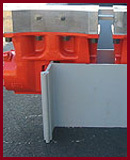 PTC has designed a new clamping head to drive optimally caissons Arbed HZ /AZ, combining turning plates.
---
Turning Plate
The turning plate with simple structure assures easy handing of different types of AZ piles, e.g. complex or non standard piles. It is able to turn 90 degrees to accommodate the piles with several shoe plates possible.