Unique Environmental Cleanup Method Utilized in Tulsa, OK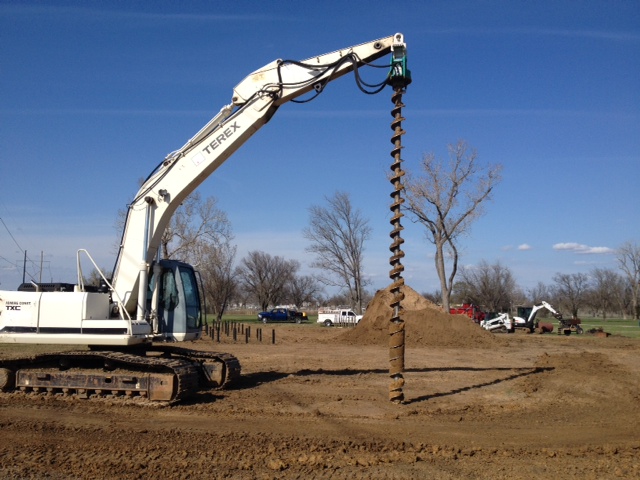 Environmental remediation has been one of the many growing areas of the heavy construction industry over the past several decades, especially site cleanup. With that, many interesting techniques have developed.
Last month, Admire Construction out of Oklahoma was contracted to drill 21' deep holes to plant trees for a phytoremediation project at Tulsa International Airport. Phytoremediation is a method of planting trees or other greenery for the purpose of removal, degradation, or containment of contaminants in soils, surface water or groundwater. At this particular location, soils had previously been contaminated by a defunct steel foundry that was in operation several decades ago.
To complete the task, Admire rented an ABI BA 2200 excavator-mounted auger from Hammer and Steel to mount on their own excavator. This hydraulic auger system utilizes a direct drive, high torque Haaglunds hydraulic motor, which is often superior to other excavator-mounted auger systems using maintenance-intensive planetary gear drives.
Rick Seitsinger and Vernon Liles had the following to say about their experience with the machine:
"We finished with the ABI BA 2200 hydraulic drill motor yesterday; wow what a great tool. It made our phytoremediation job so much easier and faster. We were drilling 12" diameter X 22' deep holes as fast as one every 5-6 minutes, making 3 passes: one to drill, one to clean auger, and final pass to clean the hole nicely. The ABI drill motor performed flawlessly on our Terex 225 excavator. After 520 holes (1560 passes) the auger showed almost no wear to the tip and cutting edges. From initial contact Wes Bergeron, to the service dept., to a phone call with Joe Dittmeier, the president of Hammer and Steel, Admire Construction could not happier with Hammer and Steel. A big thanks from us for helping make this job a success, looking forward to working with you again."