Drill Shaft Foundations with SoilTek S35C Piling Rig
Hammer & Steel Piling Rig was used to help cool things down for St. Louis Theater goers. The MUNY (owned by the Municipal Theatre Association of St. Louis) is an outdoor musical amphitheater built in 1917. Located in Forest Park just west of downtown St. Louis, it hosts stage productions during the summer season "under the stars".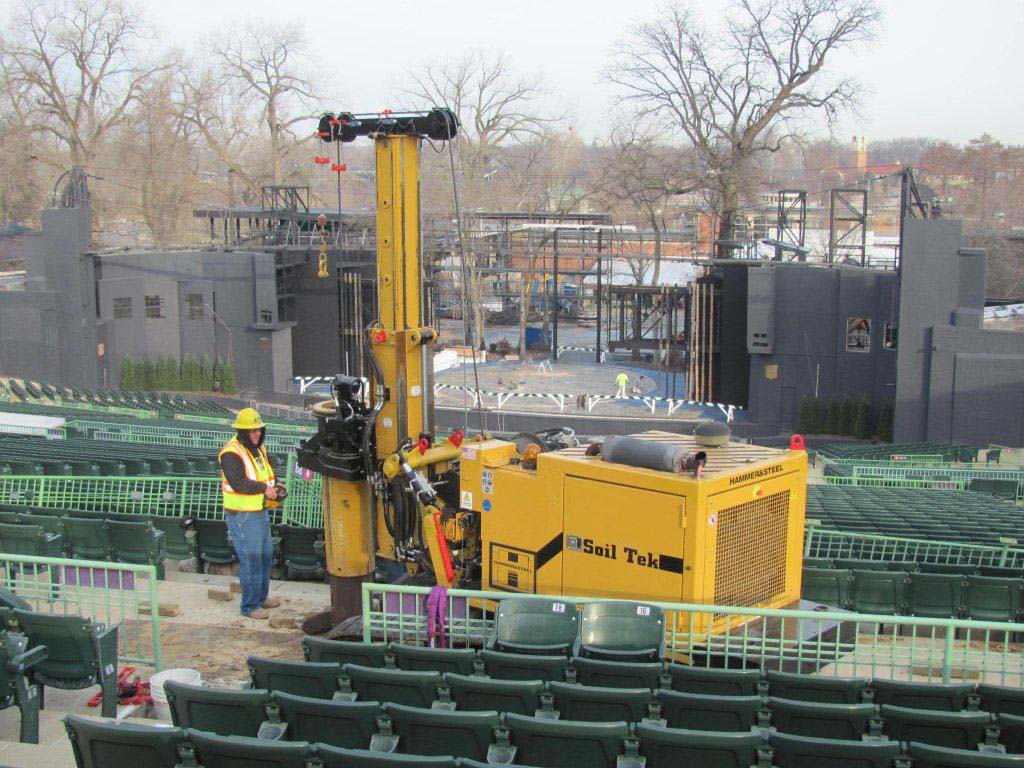 Due to sweltering conditions in St. Louis during July and August, many would think an outdoor theater wouldn't be very popular. To make things more comfortable for the audience, giant fans were installed 50 years ago.

Unfortunately, these old technology fans have become too noisy to operate during shows except for intermissions and were in need of replacement. Drilling Services, a regular customer of Hammer & Steel chose to tackle the foundation work on this job with the Soiltek S35C piling rig.
Here was the challenge:
The machine had to be able to drill a 30" OD x 15' deep shaft in clay and fill
The machine needed to be able to crawl thru limited access areas (7 feet wide x 10' tall) to reach the narrow drilled shaft locations
The machine needed to be light enough and have track materials that would not damage sidewalks and aisles in the amphitheater
Had about one day's notice in order to mobilize
Drilling Services picked up the Soiltek S35C on Tuesday afternoon and returned it Friday afternoon of the same week. They completed the four foundations pretty quickly considering that they had to take extreme care when tracking and the drilled shafts were about 100 yards apart on average. The rubber tracks and light weight of the S35C were much more forgiving to the sidewalks and aisles than the General Contractor's skid-steer was.
In the end, the customer was very happy with the outcome of this project, and MUNY theater goers will be much cooler this summer.
If you have any questions about the Soiltek S35C, please do not hesitate to contact - Mark Colvin, 314.895.4600