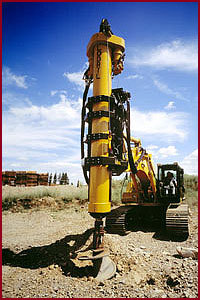 The LoDril® is a high performance drilling attachment which will turn your excavator into one of the most versatile and profitable machines in your fleet. The LoDril provides mobility, reach and low headroom capabilities, which will give you access advantages that other caisson drilling equipment can't. With 360 degrees of operating area and a reach of up to 15 feet beyond the tracks or above casing, the LoDril will have you drilling in places other rigs can't even touch.
Whether you need to fit your foundation drill into a tight spot, reach over walls or casings, drill on rough or sloping terrain, the Lodril can accommodate a variety of drilling needs. It also features telescoping kelly bars which allow you to drill deep with a low profile attachment.
There are six different sizes in the LoDril product line with depths ranging up to 100 feet and attachments as low as 7 feet in height. Models vary in running torque from an efficient 10,000 ft.-lbs. to an unstoppable 60,000 ft.-lbs. Utilizing our multi-scoped Kelly bar sets, the LoDril works efficiently in the most restrictive environments, while providing drilling capabilities from 12-inches to 12-feet in diameter. Optional accessories include level/depth indicator, (for precise positioning, depth monitoring), and a service winch.
We currently have a variety of LoDril's in our rental fleet, but are also featuring the new GeoDrill. Like the LoDril, it is excellent for limited access, low-headroom conditions, and long or high-reach requirements. Learn about the GeoDrill.